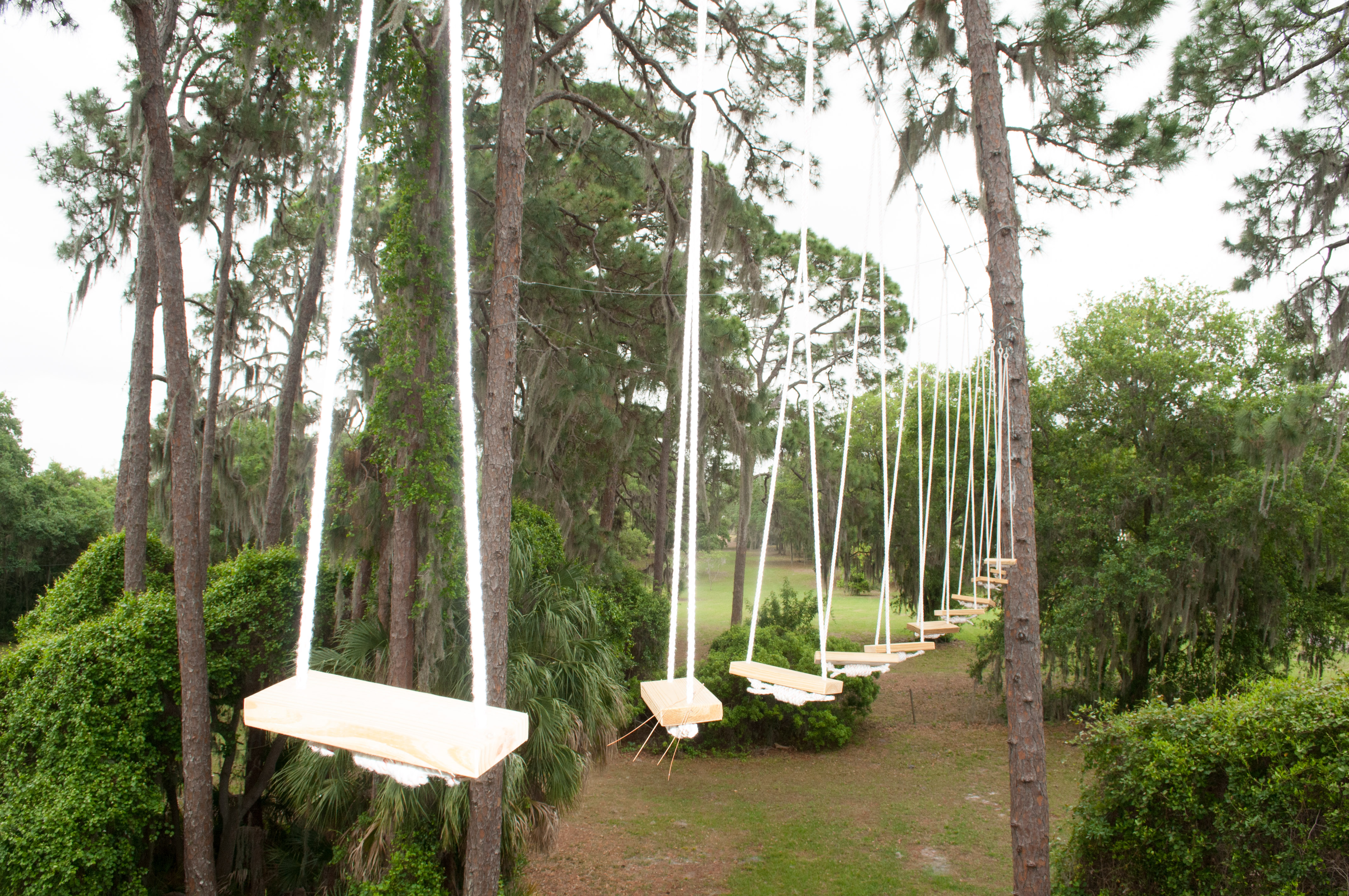 As part of our continuous efforts to provide new and unique experiences for our clients, Common Ground Adventures, along with a dedicated team of volunteers, has just completed a series of additions and improvements to the DaySpring Challenge Course in Ellenton, Florida. We've added a brand new High Ropes Element, the Boatswain's Chairs, that are sure to provide an ample challenge. Our brand new Whale Watch adds a new team challenge on the ground, providing a thrilling, suspenseful, bonding experience. The Shepherds Staff, both physically and mentally stimulating, will test the communication and cooperative skills of even the most cohesive unit.
The Boatswain's Chairs, pictured above, are a series of small boards suspended by 8 foot ropes. Each chair swings independently of the others. Traversing the span requires focus, strength, patience, and trust in your team. While crossing the elements, your belay team will be on the ground using a system of ropes and each other to keep you safe.
The Whale Watch is a classic Low Challenge Element with tremendous value. Essentially a giant teeter totter, the Whale Watch challenges a group to work together to find balance between every member of the group. The DaySpring Challenge Course's former Whale Watch was finally beginning to show the signs of years of use during our team building programs. Our brand new Whale Watch is slightly larger and significantly taller than the former. This means a more exciting ride for participants and a greater reward for successful completion of this team building challenge.
Due to the beautiful property, on site accommodations, and extensive Challenge Course, DaySpring Episcopal Conference Center is one of our most popular locations in the Tampa Bay area. (For our other locations, check out our Locations page.) DaySpring is located in north Manatee County on the Northern banks of the Manatee River.
Thanks to all of the volunteers that the improvements to the DaySpring Challenge Course possible. We'd also like to thank DaySpring Conference Center and their wonderful staff for offering additional resources to the effort and fantastic meals to our volunteers.