Tag:
Recreational Tree Climbing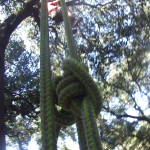 Participants during a Technical Tree Climbing Program learned to tie their own critical Tree Climbing knots as a confidence building activity.
CGA has been recognized as GOTC's "Grove of the Month" for December 2013!
We are now offering programs at Lake Yale Assembly Conference Center. Come for our Recreational Tree Climbing, Team Building programs, Low Challenge Course, High Ropes Course, and Canoeing adventures.